Coming to the home
If someone decides they would like to come to Penhill, we initially arrange for an assessment to ensure we are able to fully support their day to day care. They are invited to spend a day with us, where they can join us for lunch or tea and familiarise themselves with the facilities and surroundings. This is usually followed by a trial stay of up to four weeks, after which we can discuss their wishes regarding their future stay.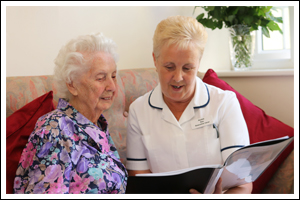 When a person comes to live at Penhill, we take time to discuss their needs and produce a care plan, which sets out what care is required and how their needs will be met. We currently use a Care Management System, called CareDocs. This enables us to keep excellent records and helps to save time on paperwork, giving more time to spend with our residents. Care Plans are reviewed every six months, or as required, and we encourage regular discussions with individuals and relatives, as well as with care workers, to ensure needs are being addressed on an ongoing basis. As part of our approach, we use a key worker system to ensure residents are able to develop positive relationships with staff.
Visitors are welcome at all times, although our residents appreciate it if meal times are given consideration. With prior notice, visitors are most welcome to stay for a meal. Visitors are also welcome to participate in any events of parties organised by the home
We are regulated by the Care Quality Commission (CQC) - a Government body which carries out an inspection annually to ensure we provide a caring and safe environment for all our residents. The inspectors welcome comments from residents and their family and friends. Please let us know if you would like to see a copy of our latest inspection report or you can find a copy on the CQC's website: www.cqc.org.uk
WHY DOES PENHILL HAVE SUCH AN EXCELLENT REPUTATION?
Some years ago saw major changes in standards of care required by the government, for many family run homes across the country this was the beginning of the end. Many such homes were acquired by large groups and speculators; and in many cases lost the homely environment forever.
During this period, Penhill met and exceeded all these changes with the objective of offering excellence in care, in a home from home environment. Probably the most difficult challenge was to maintain the original concept of a caring home, where a resident becomes part of a large family, not just a name. That is the key, and this has been achieved whilst incorporating the important and positive changes. Retaining the homely environment as a family business and consistently achieving a standard rated as "excellent" has been the reason for Penhill's continued success and unparalleled reputation locally.