Our staff
We are very proud of our fully qualified staff team. Our care team ensure a safe, supportive and stimulating environment for residents.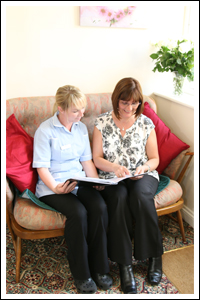 Catering staff excel in providing high quality and nutritious meals whilst catering for the personal preferences and requirements of every individual. The domestic team are on hand daily to assist residents with laundry and cleaning and once again take pride in providing these services on a personal and adaptive level. A maintenance team ensures that everything inside the home is kept to the high standards that our residents are accustomed to and take pride in keeping the grounds in good order throughout the year.
Part of Penhill's philosophy is to create a close team from all our staff. We therefore very rarely have any changes in staff which allows for personal relationships between staff and residents to develop and support a continuity of care.
Our management team are on hand daily to meet and chat with residents and their family and to ensure that they are being fully supported and that any suggestions to improve their home environment are acted upon.
We wish to run this home in such a way as not to encourage or promote discriminatory practices, both with regard with residents and staff. Regard will be paid to cultural and religious needs.